Sharp Bodies Private Personal Training - at Home in Your Area
07803 765369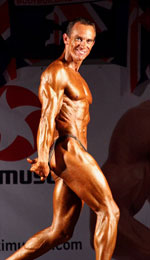 Featured Photo Relating to Personal Trainer, Fitness Coach in or near Loughton, Essex

---
After 24 weeks diet and training I have lost 45lbs. 10 years ago I competed in my last competition the BNBF Welsh Championship and then the BNBF British Championship. Now after a 10 year break from competitive bodybuilding I am returning to the stage again. In 42 days time I will be competing at the BNBF Welsh Championship Drug Tested Event

As many of you who know me and have followed my bodybuilding journey I started training in 1984. I did my first bodybuilding competition in 1993 when I was 26 years old. I went on to competed and qualify in 5 British Championship over a 17 year period. I am now 52 years old. I WILL be the best I have ever been in 42 days. My bodyfat now is 5%. My supplement range has transformed my body from 200lbs/92kg and 20% bodyfat and I am now 11 Stone/70kg down to 5%!!!. My chest is 44 inches and my waist is 29 inches. Now I am in my last 5 weeks prep for my first bodybuilding show in 10 years. Please follow me, to the biggest day of my life. My goal…to qualify for the BNBF British Title in Manchester.

My first drug free BNBF completion was in 2002 I was in the middle weights at the British Championships. Since then I have the privileged and honour to compete in the BNBF Britain 4 times. Their strict drug testing and polygraph policy for their athletes is the reason I am there! THIS YEAR I have big plans for many more shows.

So now I am training for 3-4% bodyfat let's achieve our goals!

Sharpbodies Personal Training is fully booked at the moment but please contact me as we have cancellation and spaces arrive. You could lose 45lbs in 24 weeks just like me! I am 52, 29 inch waist and 5% bodyfat. You CAN do this to!
Loughton, Essex Background
Bodybuilding and personal training services for people living in Loughton. If you seriously want to improve your physique and live in the Loughton area, talk to Tim Sharp about how you can improve your diet and exercise regimen. You can really make the most of your body's potential. Tim's methods like his 60 Day Training & Diet Plan, or his Six Pack in Four Weeks programme are proven to help reduce fat and increase muscle dramatically in the shortest possible time. Celebrities like Jodie Marsh trust Tim with their personal training routines when time is at a premium, and they need to get the maximum return on investment of hours spent in the gym.

Tim works in at the exclusive Sharpbodies private PT Rehab Studio, in Brentwood and has clients who travel from all over the UK and Europe to train with, following his training and diet routines. Loughton is within easy reach of his Brentwood Studio so to make the most of your training and diet plans, call Tim on 07803 765369 or 01277 725000, or click in the header of any page to email Loughton@sharpbodies.co.uk for more details.

Personal Trainer, Fitness Coach Services Including:
Personal trainer
Personal training
Pt
Coach
Mentor
Exercise
Diet
Plan
Training
Regimen
Bodybuilding
Weight loss
Weight control
Weight gain
Muscle gain
Fat loss
Summer body
Bikini body
Swimsuit body
Competition
Physique
Figure